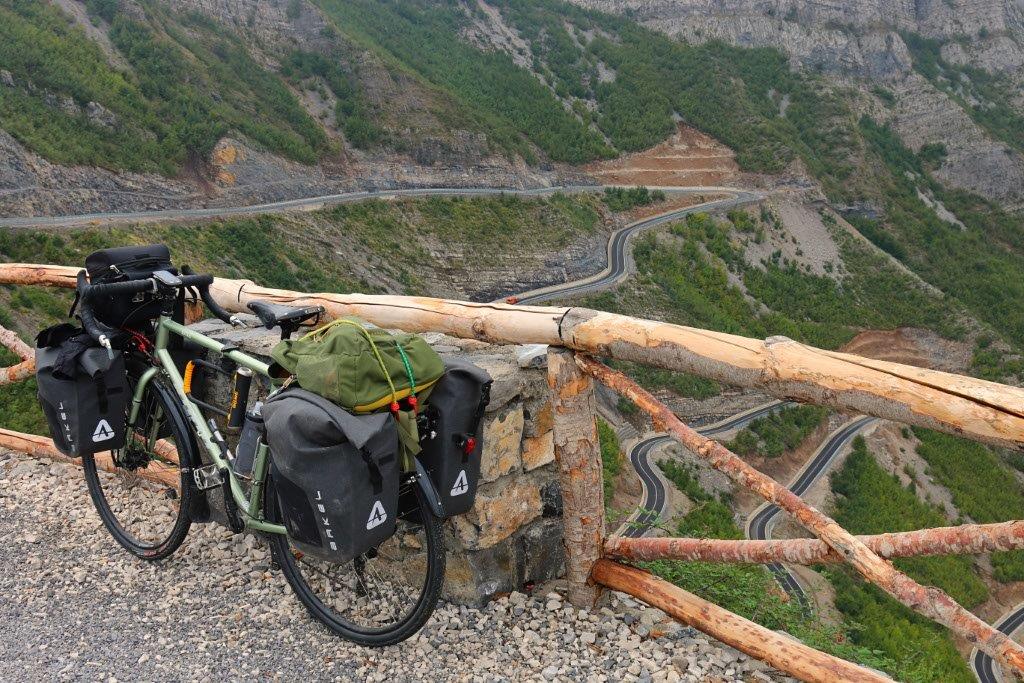 24 Jan

10: Problems in paradise (Montenegro & Albania)

Podgorica, Montenegro to Serbia/Kosovo border (26 Sep – 14 Oct)
Total miles cycled: 1,340 (2,157km)
Thigh status: pygmy hippopotamus

'Politics, problem!' says the man, handing me a spoon of home-made honey. 'Corrupt-zion, problem! Arsenal, problem! Arsene Wenger, catastroph!'

P and I are at Lake Skadar, Montenegro, sampling a few of the local grapes during a week-long, bike-free holiday that my buttocks are already embracing wholeheartedly. Our host invited us in on our way past his winery and is now plying us generously with his wares. He doesn't seem entirely happy, however, either with his country or the plight of Premiership football.

'Mourinho, problem!' he cries, throwing up his hands. 'Money, big problem!'

To avoid adding thankless tourists to his problems, we buy a bottle of strong, creamy Vranac – a dry red unique to Montenegro – and extricate ourselves before the third round of rakija. We are on our way back to Virpazar from a lakeside beach in Murici, 25 km to the south. The road there was breathtaking, snaking high through the lush, luminescent hills. When we arrived we found the place almost deserted, save for a Russian in a provocative pair of speedos, some frisky goats and a tortoise.

We could have stayed longer, but sunshine and Slavic tackle is no match for our baser British instincts and we return to watch the England vs Wales rugby World Cup match. After setting up my laptop in a bar, we are joined by a couple from Leeds – and, later, by some locals intrigued by P's unpatriotic roars of support for Wales. 'If it was Serbia vs Montenegro, you'd never get two men at the same table supporting different teams,' one of them says. 'They'd kill each other!'

One of the men tells me he's an investigative journalist. He used to work for one of the private TV channels, he says, but lost his job after producing a series exposing corruption in government. 'This place is a disaster zone,' he slurs tipsily. 'Everyone leaves if they can.'

What a shame to be forced out of such a place, I think to myself. The country is tiny, with a population similar to Glasgow (620,000). Yet packed inside is a greedy abundance of natural treasures, including lakes, mountains, gorges, forests and a coastline described by Lord Byron (with just a hint of hyperbole) as the earth's 'most beautiful encounter between the land and the sea'.

P is equally enraptured, it seems. 'Bloody hell,' he says as we work our way through the vigorous greenery en route to the coast. 'Blood-dee hell.'

The problem with having such riches at your disposal, however, is the temptation to dispose of them. And the government's intentions are clear: turn the country into a luxury mecca for the super-rich. Porto Montenegro, an extravagant marina development part-owned by Oleg Deripaska and the Rothschilds, benefits from generous tax breaks, while the country's show-piece hunk of real estate, Sveti Stefan, is now a five-star resort boasting rooms that would set the average Montenegrin back several months' salary.

P and I consider staying at Sveti Stefan, but empty our pockets and realise we only have £15, some Halls mint Soothers and a puncture repair kit between us. So we go instead to Perast in the Bay of Kotor – an achingly charming town deeply influenced by its 380 years under Venetian rule – and from there move onto Tara Canyon, in Durmitor National Park.

On our way to the canyon, we are flagged down by police for speeding and hit with a €50 fine. They clocked us doing 78km/h in a 60-zone, the officer says. No arguments. To pay we have to go to the nearest big town, 20km back the way we came.

It's clear the guy's a maverick. There's no way we were doing 78km/h, for a start; we were doing at least 100. But what to do? Before starting my trip, I'd made a pact with myself that I wouldn't contribute to the crooked dealings of any country I passed through. I'm a moral person, after all, and much of my journalism has focused on corruption and fraud. I know the terrible impact it can have.

'Can we just pay here?' I say, handing over two €10 notes. 'We're in a bit of a rush.'

Minutes later we're zooming along the road again, back on track. I watch the policemen recede in the rear-view mirror, along with the tattered remains of my integrity. Hypothetical ethics are so much easier than real ones, I mull to myself. What strength it must require to keep your hands clean. Or at least a degree of tolerance for moderate inconvenience.

At Tara Canyon – the deepest gorge in Europe (1,300m), running for 82km along the Tara River – P and I hit the canyoning trail and spend a fantastic day scrabbling our way through a magical, craggy underworld of cerulean pools, rivulets and rocks. Our guide is a PE teacher, but tells us he's trying to get a visa for Australia. He's desperate to leave, he says. 'Everyone hates the government, but there's nothing you can do. They control the jobs. You speak out, you lose everything.'

After P returns to the UK, I rekindle my strained relationship with Maud, who was cruelly abandoned in the boot of the hire car for the duration of the break (P is not an enthusiastic cyclist). Then I hit the road again towards Albania. As I leave Podgorica, I pass protesters calling for the resignation of Prime Minister Milo Djukanovic – curiously one of the richest leaders in the world, despite his £1,000 monthly salary. I then follow the Civjevna river through the mountains, beside moss, spruce and fir, while the sky burns electric blue overhead. It's a beautiful ride and I feel the lethargy seeping slowly out of my pores.

Then, after about 28km, the road suddenly stops (see pic). I look around in panic. Where the hell has it gone? Has a mountain been built on top of it? Has Donald Trump taken over border control? I storm into a nearby house to demand answers. 'Ah,' a woman says, looking apologetic. 'It hasn't been finished yet. The only crossing is down south, by Lake Skadar.'

Oh crap, I think. Lake Skadar? That involves going almost all the way back the way I came. I look around frantically for some hapless soul I can bribe or cajole to take me through. It's not like I have any awkward scruples left to worry about, after all. But it's futile. The route is completely, irredeemably blocked. And I'm completely, irredeemably buggered.

So, with a heavy heart, I turn around and go back. I should probably have checked first, I think to myself. That probably would have been the sensible thing to do. Hoping I've learnt my lesson but knowing I almost certainly haven't, I finally make it to Tuzi, near Lake Skadar, where I get chatting to a man in a cafe. I shouldn't attempt to cross today, he tells me, because there's nowhere to stay on the other side and it's inadvisable to camp. 'The place is full of thieves,' he says. 'Even locals don't go out after 10pm.'

I'm sceptical – few prejudices are more overblown than those between neighbouring countries – but he offers to buy me lunch and I'm starving. It's clear his motives are not entirely pure, but that's one of the great advantages of being a woman: the exploitation of randy men. If they want to throw in their chips on the faint off-chance there'll be a payout, that's their gamble. They should really examine the odds more carefully.

'The protests in Podgorica won't come to anything,' the man, L, says over lunch. 'It's just a few thousand people with nothing to lose. But most people have everything to lose. If you don't vote for the government, you're spent.'

It's a strategy that seems to be working; the Democratic Party of Socialists has won every vote since the first multi-party elections of 1990. They control the politics and the courts. They control the money. 'It's better not to have kids at all then bring them up here,' L says, a little fiercely.

After declining L's selfless offer to find me a motel, I book a cheap room in town and bed down early. The next day, I leave at 8am and finally make it across the border without a hitch. In Albania, everything suddenly seems poorer; the goats scrawnier, the grass scrubbier. I meet a eight-year-old boy with bare feet who is clutching a packet of Malboro, and a leathery old crone on a bicycle who gives me a toothless grin and a carrot.

And then I see it: my biggest adversary to date. A gruelling humdinger of a hill that marks the beginning of the Prokletije mountains. The road zigzags steeply up the side of the valley for about 5km, before disappearing ominously over the top. I feel apprehensive, and stall for 20 minutes to eat my carrot and listen to a man talk unintelligibly about his chickens. Then, finally, I succumb.

For the next two hours, the hill and I do battle. It's a true bun-burning thigh-cruncher of a climb and my body is on fire from the start. Every half-mile I stop for a short(ish) rest, but I am determined not to dismount and push. It feels somehow significant, this hill; if I can manage it, I think to myself, I can finally call myself a bummler. I can finally grow some balls and a dram of self-respect. So on I go, slogging, sweating, steaming, swearing, up and up for about 18km. And slowly, very slowly, sometimes almost moving backwards, I manage it.

At the top it feels good. Very good. And the reward is magnificent. Opening out before me is a broad, verdant gorge, and the most fiendish set of hairpins I've ever seen. After a well-earned breather, Maud and I rocket down with joyful abandon, only narrowly avoiding coming to a calamitous end at the bottom among a flock of errant goats. We did it, I crow jubilantly to myself! We bloody well did it!

About an hour later, however, I'm struggling again. The tarmac has run out, along with my food and water, and my wheels keep spinning hopelessly on the gravelly track. Suddenly I decide I've had enough, and barge into a nearby fish farm to bribe someone into taking me the final 25km to Vermosh, on the northern Albanian/Montenegrin border. They don't understand me at first, but a simple yet sophisticated annotation seems to do the trick (see below), and eventually the man agrees.

At the next village, after firmly refusing all payment, my kindly saviour hands me over to another man who is going all the way to Vermosh. He already has three hitch-hikers in the back — an Albanian man and Israeli couple — but happily adds me to the clan. And thank god he does. It's raining hard now and the road is just rubble, hemmed in tightly by cliffs and plunging ravines. Progress is slow, and we stop regularly to wait for bulldozers to clear the way.

After a nail-biting, two-hour drive, we finally arrive at a remote limestone farmhouse in Vermosh, where our lovely driver bids us goodbye. It's now pitch-black and pouring, and the owners greet us warmly with a wonderful meal of homemade beef stew, goats cheese, bread and shopska salad. Then they bring out the obligatory bootleg rakija, which briefly gives me the ability to speak fluent Albanian before knocking me out for the best part of eight hours.

The next morning, after a hearty breakfast and a tour of the century-old farmhouse's charming 'ethnography museum', I hit the road again towards Berane, in Montenegro. Or would if I could find one. The grounds seem to comprise one vast, lumpy, crevasse-laden mud-pit and I am forced to half-push, half-carry Maud for most of the way. Eventually we reach a small stream with no way across, and I feel myself perilously close to a tantrum. Sighing deeply and self-pityingly, I bend down and remove my socks and sandals (stop that sniggering, please — fashion is a social construct) and wade miserably across.

I've just dried myself off on the other side when it starts to rain, first lightly, then like a sheet. It soaks me so thoroughly that my padded underwear (I said stop that) eventually takes two whole days to dry. In the meantime, I manage to cross into Montenegro and take refuge in a small, grotty cafe in a village called Murino. As I wait by the wood-burning stove for the deluge to abate, a man approaches me with his phone. 'Rain three days continue,' he says, via Google Translate. 'I take you home, protect you?'

A few hours later, I finally slosh my way to Berane. The town seems to have nothing at all to recommend it, so I set off the next morning for a very hilly ride to Rozaje, which seems slightly worse than Berane. In Rozaje, I check into Motel Milenium (sic) for a highly reasonable £10, for which I get a dynamic fuchsia pink colour scheme, dirty carpet, no curtains and a broken toilet, plus a smattering of blood and hair on the wall for no extra cost.

The next day, I tear myself away from this idyll for the final schlepp to Kosovo. It's a lovely, soul-rejuvenating cycle, punctuated by the occasional pitch-black tunnel of doom, and I reach the Serbian border quickly. Here, for the first time, the police stop me and take me aside for questioning. They go through my passport three times, saying the name of each country slowly and quizzically. 'Uzbekistan?' (I nod). 'Japan?' (I nod again).

Then one of them taps his knees invitingly and I freeze. Oh my god, I think. He wants me to sit on his lap! I am weighing up my options — slap him? scream? oblige, then crush him with my leviathan thighs? — when he reaches over and drapes a coat across my legs. 'Brrrrr, no?' he says, mimicking the cold. Yes, I nod eagerly, desperately relieved. So not a sexual deviant at all, it turns out, but a considerate young man. Sometimes it's so hard to tell them apart.

And my legs are chilly, now he comes to mention it. It's now 14th October and winter is snapping at my heels. My plan is to keep abreast of it until I hit sunnier climes in the south, like those protagonists in films who successfully outrun tsunami waves or giant fissures in the earth before being whisked off to safety, but I clearly need to up the pace.

With this in mind, I hot-tail it the final few miles across Serbia to the Kosovo border, where I encounter the cheeriest border guard I've met so far. 'Very good!' he says approvingly, looking at my bike. 'You will love our beautiful country!' And seeing his big, beamish grin, I suddenly have the feeling I will.

Next post: Serbia & Kosovo. Follow my journey on Twitter or Facebook.