Three continents. Twenty countries. Eleven thousand kilometres.
One 30-something who deeply regrets not doing any training.
.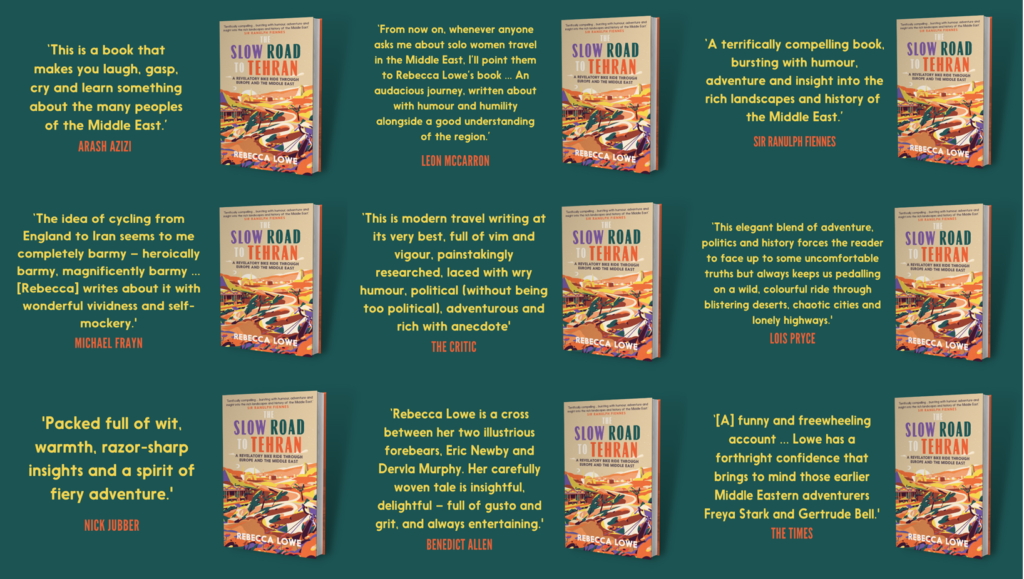 .
MY BOOK THE SLOW ROAD TO TEHRAN IS OUT NOW!
.
<<< Available at Bookshop, Waterstones, Stanfords, Amazon and all the usual places >>>
(but please consider buying directly from your local bookshop)
.
<<< Read more in The Times, Guardian, FT and Critic magazine >>>
.
'Terrifically compelling … bursting with humour, adventure and insight into the rich landscapes and history of the Middle East. Lowe recounts the beauty, kindnesses and complexities of the lands she travels through with an illuminating insight. A wonderful new travel writer.'
— Sir Ranulph Fiennes —
.
'By cycling solo across the Middle East for 11,000km, Rebecca Lowe has achieved a remarkable feat. Her account of this grand journey is admirably observant, unfailingly humane and humorously self-aware to just the right degree. She shows sensitivity to the uniquely Middle Eastern lives she encounters while also maintaining an eye for their chaotic opera of quotidian dramas. This is a book that makes you laugh, gasp, cry and learn something about the many peoples of the Middle East.'
— Arash Azizi, author of The Shadow Commander: Soleiman, the US and Iran's Global Ambitions (Oneworld, 2020) —
.
'The idea of cycling from England to Iran seems to me completely barmy – heroically barmy, magnificently barmy, in the style of the great travellers of the past who walked on foot to the South Pole or rode on camels to China. Not even straight to Iran, but by way of Egypt and Sudan, the Sahara and the Persian Gulf – 11,000 kilometres – a whole year balanced on two wheels, held upright and propelled only by her own muscle-power. Over impossible mountain ranges, on uncyclable roads, through states where being a foreigner or a woman is discouraged. She writes about it with wonderful vividness and self-mockery. And she is a real traveller. She stays, eats, and drinks, one way or another, with local people, and for brief, intense moments shares a little of their lives. She knows an extraordinary amount about the history and politics of everywhere she goes, always complex and usually painful, with problems often shamingly rooted in the colonialist inheritance. Everywhere she discovers a reciprocal friendliness and curiosity, and a changing world that often belies the expectations outsiders have of it.'
— Michael Frayn —
.
'Here's a book in the great tradition of the British lone traveller – those spirited individuals who set off to explore Foreign Lands with an open heart, determined against all odds to see what joys they might find. Rebecca Lowe is a cross between her two illustrious forebears, Eric Newby and Dervla Murphy. Her carefully woven tale is insightful, delightful – full of gusto and grit, and always entertaining.'
— Benedict Allen —
.
'The Slow Road to Tehran is a major achievement, insightful throughout and held together by the gripping plotline of Lowe's travels . . . This is modern travel writing at its very best, full of vim and vigour, painstakingly researched, laced with wry humour, political . . . adventurous and rich with anecdote.'
-– Tom Chesshyre, The Critic —
.
'A funny and freewheeling account … Lowe, a freelance British journalist, has a forthright confidence that brings to mind those earlier Middle Eastern adventurers Freya Stark and Gertrude Bell.'
— James Barr, The Times —
.
'Beautifully capturing the joys of solo adventuring … highly entertaining and impressively valiant.'
— Caroline Eden, Financial Times —
.
'Rebecca has pulled off an astonishing feat, both in terms of her journey but also with her book, which is both thought-provoking and highly entertaining. Refreshingly free of anguish and navel-gazing, she instead turns her focus on the people and stories of the Middle East while expertly weaving in the salient aspects of Britain's often nefarious relations with the region. This elegant blend of adventure, politics and history forces the reader to face up to some uncomfortable truths but always keeps us pedalling on a wild, colourful ride through blistering deserts, chaotic cities and lonely highways. All this, served with a good dose of self-deprecation and excessive drinking makes for a highly readable book that will stay with you long after you roll into Tehran, weary, saddle sore, but triumphant on her behalf.'
— Lois Pryce, author of Revolutionary Ride: On the Road in Search of the Real Iran —
.
'Lowe is a witty, worldly travelling companion with a hawkish eye for detail and whip sharp turn of phrase. She pedals across deserts with steely-thighed grit, deftly weaving humour with serious journalism. A life-affirming read that will have you dusting off your derailleur and hitting the open road. Bravo!'
— Antonia Bolingbroke-Kent, author of Land of the Dawn-Lit Mountains —
.
'Already familiar with Rebecca Lowe's work, I was expecting The Slow Road To Tehran to be good. But I didn't anticipate just how good. Brilliant, in fact. It's everything you could want from a travel book: beautifully written, warm, compelling, exciting, and funny as fuck. The sheer quantity and quality of research is exceptional, and there was something new and fascinating to learn on every page. I have so much admiration for this wonderful book, and suspect it will soon become a travel literature classic.'
— Charlie Carroll, author of The Lip and The Friendship Highway: Two Journeys in Tibet —
.
'From now on, whenever anyone asks me about solo women travel in the Middle East, I'll point them to Rebecca Lowe's book. This was an audacious journey, written about with humour and humility alongside a good understanding of the region.'
— Leon McCarron, author of The Land Beyond: A Thousand Miles on Foot through the Heart of the Middle East —
.
'The Slow Road to Tehran is packed full of wit, warmth, razor-sharp insights and a spirit of fiery adventure. It's also a book full of hope, recognising the challenges faced by one of the world's most misunderstood regions, and wishing on it the same spirit of freedom that drives the book's irrepressible author.'
— Nicholas Jubber, author of The Fairy Tellers and Drinking Arak off an Ayatollah's Beard —
.
'The Slow Road to Tehran is the very best of modern travel writing. It contains wonderful descriptions of far away places and hilarious encounters on the road, as well as of the grit needed to cycle across continents by oneself. But it is much more than that. Rebecca Lowe's narrative brings out the humanity of the Muslim peoples of the Middle East whose lands she crosses, as well as the contrasts between their countries and the very different situations in which they find themselves today. This book gives you an inkling of why things are the way they are.'
— John McHugo, author of A Concise History of the Arabs and Syria: A Recent History —
.
'Illuminating, gripping and often funny.'
— Wanderlust —
.
'[Lowe] is a perceptive writer who finds new ways to think about the complex peoples, histories and politics of the countries she journeys through.'
— Ben East, Observer —
.
<<< The Slow Road to Tehran will be published in the UK by September Publishing and in Germany by MVG Riva (Bonnier) >>>
.
<<< Represented by Carrie Plitt at Felicity Bryan Associates >>>
.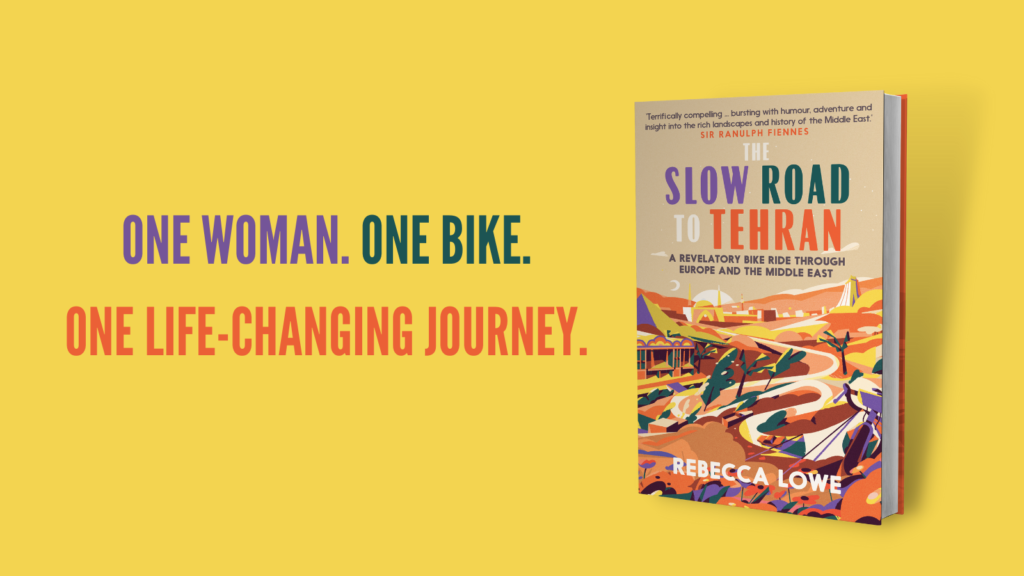 .
'A 'bummel' … I should describe as a journey, long or short, without an end … We nod and smile to many as we pass; with some we stop and talk awhile; and with a few we walk a little way. We have been much interested, and often a little tired. But on the whole we have had a pleasant time, and are sorry when it's over.'
— Jerome K. Jerome, Three Men on the Bummel —
.
I am a freelance journalist from London, and in July 2015 I set off on a year-long cycle trip through Europe and the Middle East.

My aim was threefold: cultivate a pair of leviathan thighs that would be the envy of all I met; survive; and shed light on a region long misunderstood and misrepresented in the West.

For those expecting a feat of athletic majesty, my apologies. It was, rather, a classic bummel: meandering, wayward and sluggishly satisfying (which is probably how I'd describe myself in a personal ad, come to think of it).
.
On June 20th, 2016, I finally made it to my destination – Azadi Square, Tehran – having fulfilled at least one of my three goals. Where the other two are concerned, I'll perhaps leave it to others to judge.
.
If you're interested in reading more about my journey, more information can be found here.
.