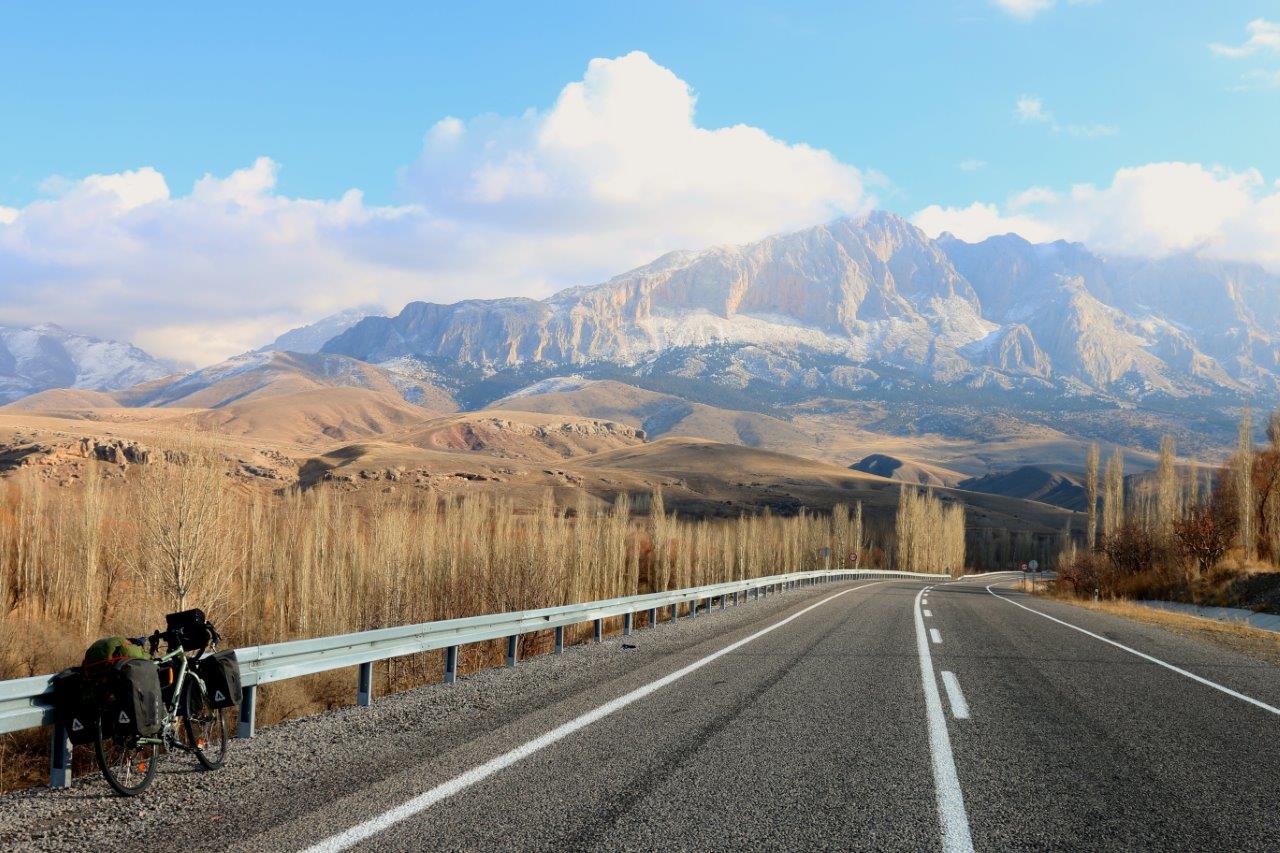 15 Dec

17: Stories from Syria (Turkey & Lebanon)

Gaziantep, Turkey – Tripoli, Lebanon (22 – 30 Dec)
Total miles cycled: 3,528 (5,678km)
Thigh status: BB- (negative outlook)

The main problem with carrying a satellite tracker is that everyone knows where you are. This is generally A Good Thing, as my mother has beaten into me on regular occasions. But when you're desperately trying to convince people that you're not planning to become an ISIS bride or join the fight for the caliphate and then you're seen wending your way inexorably towards the Syrian border, it can start to feel a little bothersome.

Yet contrary to popular belief, the Turkey-Syria border has more going for it than just suicide bombers and marriage opportunities with theocratic maniacs. It also has astonishingly tasty baklava. This is not my opinion; it's objective fact. Both UNESCO and the EU have endowed Gaziantep's pistachio nuts with protected status, giving each one its own armed sentinel and hotline to the president. Bearing this in mind, a small 300km detour seems the least I can do to pay my respects.

I arrive in Gaziantep – or Antep to its friends – three days before Christmas. My Couchsurfing hosts are two male cousins aged 29 and 40, H and E, who live in a brand new, predictably beige apartment downtown. H works for an NGO that helps Syrian refugees, while E owns a local construction company. Neither are fans of Erdogan, unsurprisingly. But E clearly isn't interested in talking politics; he just wants everyone to love each other. Soon after I arrive, he whips out his guitar for a sing-a-long, before realising he's too stoned to remember how to play (which is a blessed relief, as far as I'm concerned — ISIS I can take, but baked beatnik crooners on a bonding mission may well be a step too far).

The former are a slight concern, however. They have control of the border, just 30 miles away, and terrorist sleeper cells are known to operate in the city. During the week of my stay, Syrian journalist and vocal ISIS critic Naji Jerf is shot dead in broad daylight, and a police raid uncovers a large cache of explosives in an apartment. While most people reassure me I am safe, rumours abound that ISIS operatives stalk foreigners, and I am advised – as a conspicuous western, female cyclist – to be on my guard.

There's certainly something unsettling about Gaziantep. On the surface, it emits a curious, bland sterility, with endless half-built high rises doused in milky-white sunlight extending as far as the eye can see. This veneer is thin, however, and below I am aware of a latent, throbbing pulse; the muffled creak of fault lines under pressure. Syrians and Kurds, diplomats and activists, spies and sex workers, terrorists and traffickers — all walk in shadows here, in cagey co-existence.

There are reportedly over 500,000 Syrians in the city, and – once I've finished eating as much baklava and kebab as I possibly can – I set about meeting some of them. My connection is a young American woman, E, who works for the Center for Civil Society and Democracy (CCSD), a Syrian NGO. When we meet, she gives her take on the neighbouring war. While ISIS (or Daesh, as they're known in the Middle East) are 'brutal murderers', Assad is 'far worse', she says. Statistics from the pro-opposition Syrian Network for Human Rights seem to support this: of the 16,000 civilian deaths in 2015, 75% were reportedly at the hands of the regime.

E introduces me to the head of CCSD, R, who projects a maternal steeliness and clearly commands the love and respect of everyone at the organisation. She tells me about the vast network of civilians working with them inside Syria, and the voice of the moderate opposition that has been 'silenced, but not killed'. 'The vast majority of people are still calling for freedom, justice and co-existence,' she stresses. 'The revolution remains alive.'

Female empowerment is a key focus of CCSD, and through R I meet several incredible, courageous women. One is 37-year-old N, from Zabadani, a Syrian town currently under siege by the regime. Before fleeing in June 2014, she and a group of women helped to broker a ceasefire between the military and opposition, as well as negotiate the release of female detainees and the removal of women from checkpoint blacklists. All while campaigning. And surviving. And maintaining the education of their children.

Many of these women remain in Zabadani now, I am told, along with 22,000 other civilians. They are completely cut off from food and aid by the regime and Hezbollah. A kilo of rice costs $110. Milk costs $250. Babies are surviving on cornflour, while adults eat grass and steamed apricot leaves. Just yesterday, six men were killed by mines trying to escape: all members of N's family.

During our talk, N calls her friend in Zabadani. 'People are devastated,' the friend says. 'But we know we have to go on. When you help a child to eat, to study, you know you are building the base for the future of Syria.'

The strengthening role of women, and civil society as a whole, is one of the 'great untold stories of the conflict', I am told by another Syrian activist, who works for an NGO called Ihsan. 'Before the revolution there were no NGOs in Syria,' she says. 'Now there are hundreds. We are seeing a cultural revolution.'

She and her colleagues are deeply frustrated by the West's obsession with ISIS, she adds. Not to mention its apathy and reluctance to impose a no-fly zone, 'which could have ended the war long ago'. But she concedes Syria has now become so complicated that even those closest to it have little idea what's going on. 'Nothing is quite as it seems. There are hundreds of armed groups, each with their own interests and narratives.'

That evening, I walk home alone and get lost. It's very dark and creepily silent, and I feel myself becoming increasingly jittery. A black Mercedes with tinted windows passes twice in ten minutes and I convince myself it's some Baghdadi henchman at the wheel. I walk quickly and determinedly, hoping to look like someone with a concealed Kalashnikov rather than someone who dropped their rape alarm into the toilet a week ago, but I'm tense to the core. It's all foolish paranoia, I know. But if I'm beheaded by ISIS, I'll never live it down with my mother.

Fortunately they leave me be, however, and I go on to spend a lovely Christmas Eve with a CCSD activist, W, her family and some friends. We eat hummus, drink red wine from their Syrian village and listen to Arabic singers: Kadhim Al-Saher from Iraq; Fairuz from Lebanon; Dalida from Egypt.

W's husband defected from the Syrian army and is now in Holland, I learn, and she hopes to join him there shortly. 'The regime couldn't get to us easily because my family was quite influential,' she tells me. 'But they used to constantly watch our house from cars across the road. It was very intimidating.'

N, a Kurd from Aleppo, sits next to me at dinner. She is scathing about both sides of the conflict. 'The FSA came to "liberate" Aleppo,' she says. 'But they just gave the army an excuse to destroy it.'

At 2am on Christmas morning, I find myself walking the streets of Gaziantep with W's brother-in-law, my chaperone home – which makes a change from the past 34 years, when at this time I'd usually be prematurely raiding my stocking for satumas and Terry's Chocolate Orange. He used to work for the US Embassy here, he tells me, but quit because he was frustrated by their obsession with ISIS. 'Daesh Daesh Daesh, that's all they cared about,' he says. 'They didn't care about the Syrian people.'

I awake a few hours later feeling tired and a little empty. It's my first Christmas away from home and I suddenly realise how much I miss everyone. Fortunately, there's one thing I love more than my family, however, which E treats me to at lunchtime to help me through my gloom: a festive lamb shish. What a legend!

In the evening, I'm invited to a CCSD party. The group are more like family than colleagues, and clearly care deeply for each other. Many have lost homes and loved ones, but the occasion is a happy (if gruellingly sober) one, filled with food, chain-smoking and communal singing and dancing. As a conga forms on the dance floor, one young woman tells me about her escape from Syria. 'I hid in the car boot of a sheikh who was secretly helping the opposition,' she says. 'He was taking a huge risk. Assad has killed all the opposition sheikhs.'

Later, to my horror, I am requested to sing an English song, and perplexingly find myself belting out that well-known Christian psalm 'I Will Survive'. Looking back, I'm still not entirely sure how this came about – suffice to say that neither I nor the entire Syrian community are likely to let it happen again anytime soon. I'm here to build cultural bridges, I remind myself, not blow Gloria Gaynor-shaped holes in them.

Gaziantep proves so fascinating that I stay an extra two days and am forced to get a bus to Mersin, 300km away, in order to catch my ferry. Here, I stay with a half-German, 50-something, divorced food technology professor, N, who dedicates most of her time to cycling and trying to create purple dye from black carrots. We talk over dinner and she tells me she is dismayed by the rise in social conservatism among her students. 'Women are more covered and the teaching is more religious than before. There's no mention at all of evolution.'

Since her divorce, N says she's experienced constant problems with men, who tend to believe she's 'fair game'. She's also had trouble with society more generally. 'Turks love visitors, but if you live here you have to fit in. As an atheist with lots of random cyclist guests, I don't fit the mould.'

It's a reminder that, as a mere passing hobo, my level of social insight will always be limited. I dip in and out, with no threat to custom or conformism. I cut deeper than the average Thomas Cook rubbernecker, perhaps, yet I'm aware that much of what I see is performance; a cloak of civility, where the ruts and rough edges are concealed.

On Dec 29, I cycle 100km along the coast to Tasuçu – an easy, pleasant ride – where I pick up my ferry ticket to Tripoli, Lebanon. After enjoying a heartfelt valedictory kebab, I join about 30 people and their Kilimanjaro of luggage at the ferry office. We're then taken by truck to the dock, where we're herded through security into a series of prison-style compounds. My bike and panniers are waved through without checks (terrorists take note), and then my passport is confiscated by the police. This to prevent those going to Syria from absconding in Lebanon, I learn. Instead, they will be driven directly to the border, where their passports will be returned.

We finally leave five hours late, at 1am. I discover I can't afford the severely overpriced food on board (twice the price of other ferries, apparently, despite the poverty of its passengers), so instead go exploring. With just 30 people on board, nearly all Syrian, most cabins and decks are empty. Through one porthole, I spy a sink full of fetid, swampy water; through another, a group of crew members smoking. Who needs the QE2, I think with forced exuberance, as I desperately try to reattach the toilet flush that has come loose in my hand.

I hope to get some sleep in one of the small lounges, but am awoken at 3am by a rousing medley of Arabic songs, courtesy of my female companion. Worried I might have some kind of Pavlonian Gloria Gaynor moment, I decide to up sticks and snooze elsewhere – but instead get talking to a man, M, from Damascus. He  is on his way to see his elderly mother in Atmeh refugee camp in Syria, he tells me, where conditions are 'desperate'. Everyone there lives in flimsy, makeshift tents in freezing temperatures, he says. There's no electricity or running water, while food deliveries frequently go missing due to robberies by mafia groups.

M, a Sunni Muslim, left Syria for Sweden several years ago, but returned in August 2011 for Ramadan. After he arrived, he says he was arrested as a foreign spy, hung from the wrists in prison and beaten with sticks. He never confessed, however, and after a month he was released. He will never return to Damascus while Assad is in charge, he insists. How does he think the conflict will end, I ask? 'It won't,' he replies encouragingly. 'When the groups stop fighting Assad, they will fight each other.'

By the time we disembark in Tripoli, it's 3pm and we are seven hours late. This is normal, apparently, and nobody seems overly concerned. No wonder services never improve if everyone just rolls over and accepts them, I think frustratedly – channelling my mother, as I seem to do more and more frequently these days. One woman is clearly upset they are being taken directly to the Syrian border, however. 'I have no money!' she wails hysterically. The guards simply ignore her.

And then, suddenly, I'm alone in the growing twilight. To me, the city is a nebulous lair of unknowns, and I feel tired and apprehensive. It was only recently that Tripoli was suffused in sectarian conflict between Sunni and Alawite jihadist groups: old rivalries exacerbated by the Syrian war. The fighting has now reportedly been brought under control – but has it really? As Maud and I wind tentatively through the chaotic glut of flatulently honking traffic, attracting stares and comments, I feel myself bristle with wary caution. I don't know my place here yet. I can't gauge the risk.

It strikes me, as it has before, how intimidating it can be to arrive on your own in a completely alien place. I often find it tough, and I'm a white, middle-class English speaker with a huge support network. And I'm here by choice. What it must be like for those with no help or way out, it's hard to imagine. You must need phenomenal strength.

To be continued…

Follow my journey on Twitter at reo_lowe, Instagram at bexio8 or Facebook at bexbicyclediaries. 

See the picture gallery for Lebanon here.